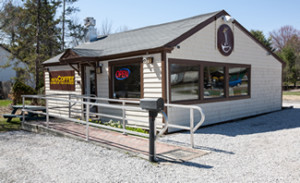 St. Joe's Coffee - Scarborough's best Coffee Shop, which finally opened after a lengthy remodel in December of 2012, is located conveniently on Gorham Road at Eight Corners. "We quickly realized the building really needed a thorough overhaul if it was going to be a coffee shop," said Owners David Darling and Jason Miller. The layout of the interior was completely turned around: a bathroom was moved, a kitchen was added and all new plumbing and electrical systems were installed. About 80 percent of the interior was taken down to the studs and rebuilt. David & Jason mused that the process never seemed to end, but now that it is done they say they wouldn't change a thing.
The name "St. Joes Coffee" was born from "La Festa di San Giuseppe" or the "Feast of Saint Joseph" where it's customary to celebrate this Patron Saint of Workers, on March 19th, by eating pastry called zeppole. Zeppola is the italian name for a two inch, deep fried dough "ball" covered with powdered sugar, which is more commonly known as a beignet in the U.S. or the "bennie" here at St. Joe's.
The Coffee in St. Joe's Coffee is locally roasted here in Portland at Seacoast Coffee Company. The owner is a personal friend of Jason's. "I started drinking the Italian Roast back in 1994 when I was a commie in the pastry department at the White Barn Inn. For 2 years I worked a split shift, I started at 5 in the morning and left at 11am and then I was back at 4 in the afternoon to work until closing (usually about midnight) so, needless to say, I was drinking a lot of this particular roast. After that I spent almost 10 years in California working as a chef and drinking a lot of different coffees, but they just weren't the same, that particular roast haunted my taste buds for years. In 2006 I was reunited with this coffee at a restaurant in Ogunquit and I knew exactly what it was at the very first sip. At that point I made it a priority to befriend the owners so it would never leave me again. I opened the first St. Joe's in 2009 and told Seacoast Coffee Company they had be our coffee roasters. The rest is history."
Home of the Bennie - St. Joe's Coffee is not just a place to get great locally roasted coffee but it is also a place to grab a delicious breakfast sandwich. These aren't typical breakfast sandwiches; they've been described as little omelets on homemade buttermilk biscuits. At last count there were 22 different sandwiches to choose from. There is a daily selection of freshly made muffins and scones, homemade dough nuts and Bennies. What are Bennies? Simply put, the Bennie is fried dough tossed in powdered sugar. But it is so much more than that, the dough is made fresh daily and the Bennies are made to order so they are always hot and delicious. They come four to an order and are served with your favorite dipping sauce (chocolate, blueberry or maple-cinnamon) on the side.
Our Lunch - Our Sandwiches are made fresh with fresh ingredients. Offerings include a BLT with avocado and chipotle called, surprisingly enough, The AB.LT.; a Tuna Sandwich with Tomatoes & Sprouts and spiked with Wasabi; and a Margarita Grilled Cheese with Fresh Mozzarella, Tomatoes and Basil Pesto.
The shop is open seven days a week from 6am to 5pm serving breakfast and lunch along with the Freshly Roasted Coffee, Hand Crafted Lattes with Homemade Flavorings, Fresh Fruit Smoothies and even a Red Bull Smoothie with the power pineapple juice and real fruit. There are truly too many offerings to list.